» Our Partners
» Welcome to RSWarrior.com: The #1 Yamaha Road Star Warrior Forum
Welcome to RSWarrior.com - a website dedicated to all things Yamaha Road Star Warrior. We have many features on this website to make your experience here more enjoyable. The first step would be to REGISTER for free so you can take advantage of all the features we have to offer.
How Do You Check A Motorcycle's Oil Level?
Sep 02, 2016 - 9:24 AM - by Motorcycle.com




Quote:

Modern motorcycles are incredibly reliable, but they still require you to check a few things in order to keep them running at full potential. The engine oil is one of those items you should never neglect. After all, you don't want to run your high-revving, manufactured-to-aerospace-tolerances, and extremely-expensive-to-replace engine without the proper lubricant, do you? Additionally, an engine's oil can reveal a good bit of information about the condition of its internals to even a novice mechanic armed with a little information.

To actually check an engine's oil level, take a look at its owner's manual. Seriously, it'll outline the specifics that the manufacturer recommends – and they do vary slightly from bike-to-bike. Still, the steps do follow a rough pattern.

Make sure the engine is warmed to operating temperature. After turning it off, allow the oil to drain down from the top end by waiting a few minutes. Bikes with a sight glass require that you hold the bike level – either from the saddle or beside the bike – look at the window conveniently located on the bottom of the engine to make sure the oil level is between the two marks on the case. (Tip: If your bike has both a centerstand and a sight glass, measure it the above way and then compare it to the level shown while on the centerstand. This way you can use that level as reference so can check the oil level when it's parked on the centerstand in your garage.)

For engines with a dipstick, check your owner's manual to make certain how the stick is to be inserted for an accurate reading. Usually, you will wipe the stick and insert it into the case until it makes contact with the filler plug's threads. Be sure the plug is straight and the bike is level or you may get an inaccurate reading.

If you ride your bike regularly, you should check its oil at least weekly. If you ride infrequently, consider checking before every ride. With regular checks, you are more likely to notice symptoms of little problems before they get bigger.

Read more about How Do You Check A Motorcycle's Oil Level? at Motorcycle.com.
2 Replies | 196 Views
Pepper-Spraying Texas Cop Update
Aug 24, 2016 - 1:46 PM - by Motorcycle.com




Quote:

A firestorm erupted last March when a video surfaced that showed a Texas police officer pepper spraying a group of motorcyclists riding past his patrol car. Motorcyclists who watched the video (now with more than three million views) were angered at the apparent assault on riders. The cop, William Figueroa, claimed he needed to spray the riders because they wouldn't vacate the lane next to his patrol car that was pulled over at the side of the road.

Surely the overly aggressive cop would be severely reprimanded for his actions that could've hurt or even killed riders as they rode past, right? Well, thanks to our favorite moto-riding attorney, John Butrus, we were able to dig into the situation. Sadly, the outcome of the investigation seems to be far too lenient for an officer who demonstrated a complete lack of concern for the safety of our fellow riders.

Read more about the Pepper-Spraying Texas Cop Update at Motorcycle.com.
8 Replies | 290 Views
Five Ways to Keep Your Motorcycle from Being Stolen
Aug 16, 2016 - 4:57 PM - by Motorcycle.com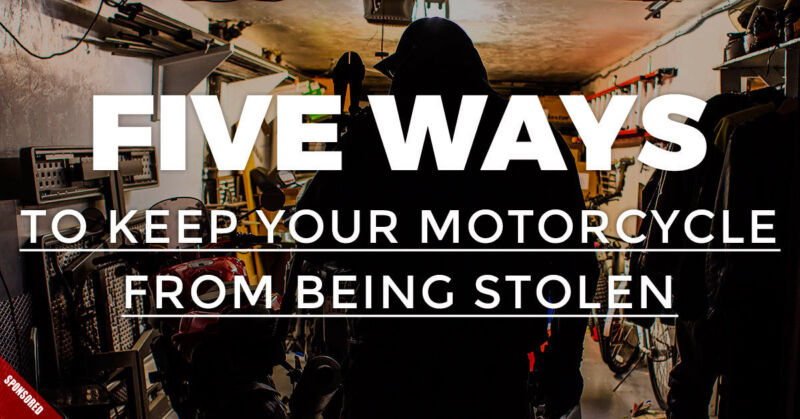 Quote:

If you own a motorcycle, you are a target for motorcycle theft—and it doesn't matter how fancy or filthy it is. Obviously, big-buck cruisers like Harley-Davidsons and tricked-out $15,000 sportbikes are tasty treats for thieves, but vehicle theft is sometimes a crime of opportunity, so here's five ways to keep your bike safe, no matter what it is.

Motorcycle thieves, although usually not great at career planning, are very clever, practiced and good at what they do. That means they can work incredibly fast, defeating multiple security systems and locks in minutes or even seconds. Their strongest weapon is speed, so your best defense is to make it as complicated as possible to get your bike, so they'll look for an easier target.

Read more about the Five Ways to Keep Your Motorcycle from Being Stolen.
0 Replies | 271 Views
» Online Users: 189
16 members and 173 guests
1kwikf, 4UTNV, afoley90, bigr, bja72774, burnchassis, Chopper17, Desertboy13, freeman2, Gumbajony, Hack, richgetsy, Snowboy, springs, Stellmon, YoungWarrior
Most users ever online was 1,173, 01-04-2014 at 02:32 PM.