Discussion Starter
·
#1
·
I went and picked up my good calipers, the nut's hexwidth measures ~35.74 at the open end, and ~35.82mm at the closed (back) end, so ithasa little flare. Thickness is ~12.1mm. The side of the nut that faces thepulley is bored out to ~30.80mm diameter Yes, I tossed my old calipers.
I bought a 36mm socket at a local auto parts store and it fits fine. In the light of day Inotice my 28-32mm socket set has six-point flats that actualy are not flat, but they bulge in the middle a little. I've had them for so long I don't even remember where/why I bought them but I sort think maybeit was either for a GM front end, or for some imported crane repair someplace in the last 25 years. Anyway they are useless too.
My streak these last months of screwing up my posts seems to be continuing. There's no excuse for it. I've correced the 35mm below to the 36mm I knew it was from the prior topic. I see I also posted this in the wrong General forum. I still seem tobe doing fine with respect to completing my work, butcommunicatingdetails on this forum seems to be a bit of a challenge these days. I'll take the appropriate steps, including slowing down and trying to finish one task at a time, and stopsqueezing things in timeslots between other stuff. Plus,Ido fine when Ijust jump in, so I'll stop asking questions to get ready in advance.It'll be fine.
corrected as above
: I picked up the OEM pulley fastener set from the dealer.The 36mm nut won't fit my 36mm socketand its loose in 1-7/16". The nut flat-to-flatmeasures just over 36mm with my old calipers which Idon't trust too much. AnywayI'm headed to the tool storetomorrow before the game starts to test-fitthe nut ina few sockets.I'm betting it fits because several members said they had a nice tight fit with good quality 36mm sockets. Mine are not cheap, but there's another possibility. Its been a long long time but I think I might have bought my 32-38mm socket set to fit GM front end parts, and I recall something about a difference. Next Tuesday I'll have my good calipers back and will see what's up by measuring, too. But rather than wait, if I can find a socket to fit, I'd rather drop the $30 than screw around with it.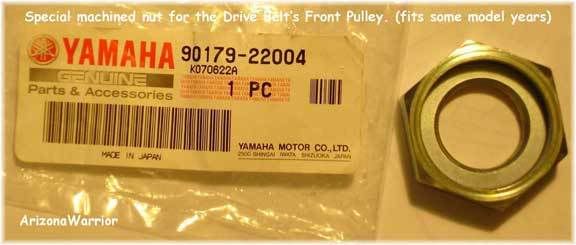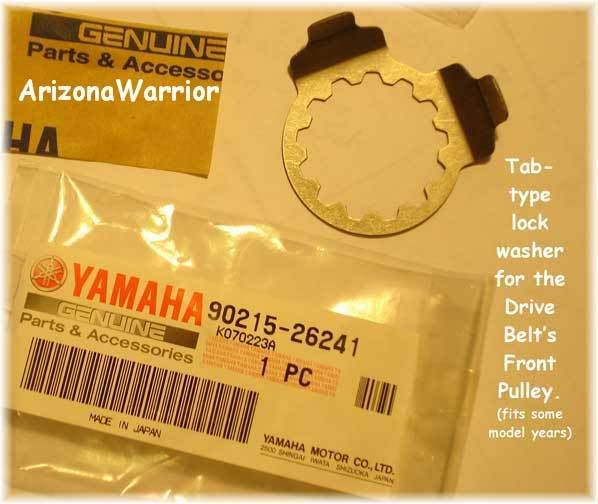 From the Star parts website at:
http://www.starmotorcycles.com/star/parts/home.aspx
78
5PX-17651-00-00
PULLEY, BELT
1
http://www.yamaha-motor.com/star/accessories/addwishlistpart/1283967/add.aspx
79
90179-22004-00
NUT
1
http://www.yamaha-motor.com/star/accessories/addwishlistpart/1283968/add.aspx
80
90215-30233-00
WASHER, LOCK
1
http://www.yamaha-motor.com/star/accessories/addwishlistpart/1283969/add.aspx
I'm installing this:
BILLET DRIVE PULLEY CASE SET - Smooth
STR-5PX27-82-01