Discussion Starter
·
#1
·
Just completed 4 more mods to the beast and thought I would share some pics.
I first put the bike on the lift to fabricate some new exhaust tips for the Samsons I recently fitted (thanks Time). Mendrel bends $15 each. Chrome $25 each.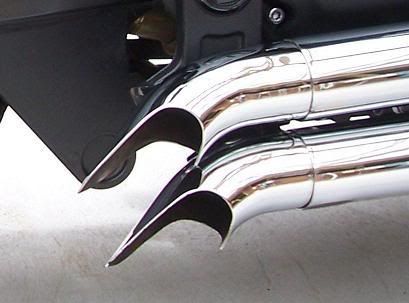 Then thought I might as well send the rear fender struts off to the chromer at the same time. Both struts stripped, polished and chromed $160.

So while the rear fender was on the work bench I thought I would remove the rear wheel to check for any rubbing and general clearence for the 240. This made me think about the hidden rear caliper mod I've been wanting to do for so long. Cut and weld caliper bracket $0. Paint $10. All other standard hoses and fittings were re-used.
Ended up relocating the Brake fluid under the seat and cutting tabs off the frame. Cost $0. All standard hoses and fittings were re-used.
While these mods may only be noticed by other Warrior owners, the rear of the bike looks much cleaner and for $250 (au.) it's money well spent.
You've got to love those free mods.