Discussion Starter
•
#1
•
My Cobra slash cut slip-on arrived today. Wife bought it for me for Christmas off of E-Bay for $40!
They don't make them anymore, but the price. Click the pics for full size!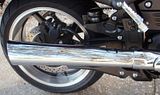 Install was pretty straight forward.
Remove stock can and upper mount .
Remove brake resevoir from upper mount.
Mount resevoir to supplied bracket.
Mount bracket to frame.
I loosened the lower bracket to help with alignment.
Installed slip-on with supplied hardware.
lined everything up and tightend down.
Start Warrior and proceed to bother neighbors!
1st impressions:
Very quiet at idle. pretty loud on throttle. Not as deep as I would like, but for the money, it rocks.
On a side note, I bumped the ECU +3 on both cylinders from stock. Anybody have any thoughts on this that have run this or any other slip on? I am at sea level if it helps.