For sale: 260 Fat Rear Wheel - Chrome finish with smooth weld.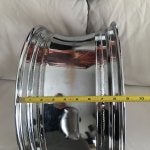 Works with 250-260mm tire size.
Box measurements - 21" x 21" x 11" (53cm x 53cm x 27cm). Weight - 20.5lbs (9.3kg).
Shipping from San Francisco, CA (94105).
The wheel has few very little scuffs (hardly noticeable ). Other than that - excellent condition. See the full size pics
$950 + shipping. Pm if interested.